I am a bad punster using the same source material twice, but I couldn't resist. I'm also going to warn that this post is going to be light on pictures, so I'll try to make the next one prettier.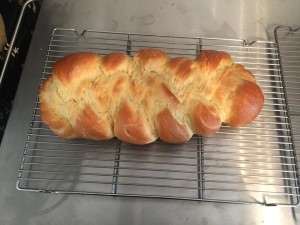 Since last you saw your intrepid baker, a lot new has happened. The biggest change, however, is in elevation. The fam damily packed up and moved from the lovely, if scarily humid, Appalachians to the lovely and much more arid Rockies. There are a lot of challenges in relocating four adults, three cars, one cat, and twelve years of accumulated stuff halfway across a continent. I'm not going to go into most of them here because the one challenge I really worried about was baking at altitude. OK, maybe not the only one, but it was a concern. The other concern is that half of the household is gluten-free now due to various medical issues, so I get to tweak some things in the future.
In the first few months of our residency, I didn't get much baking done. Partially due to the fact that we were in temporary digs and I didn't have nearly enough room nor all of my equipment. I put together some cookies one day out of boredom and I made a chicken and mushroom pie for dinner one night, but the only bread I'd made was the two-hour bread recipe I swiped from a friend on Livejournal. It's a perfectly good bread, but it's not the hands-on type of thing I love.
Challah, on the other hand…
As I've mentioned before, part of the chosen family is Jewish. Rosh Hashanah was this week and challah is all wrapped up with it, so I used it as an excuse to get back into practice.
Luckily for me, I have friends in the area, at least one of whom loves to cook. I sent him my cinnamon rolls recipe a while back and he said it baked up fine with very few modifications, so I figured it couldn't be too difficult to fiddle things to come out OK in the end.
The biggest difference is that I dragged out my scale and measured my ingredients instead of going by volume. It seems that the altitude and the environment cause you to lose some moisture from flour and other dry goods, so it's best to go by weight. That was easy with the dandy new scale. Pictures of the new toy later.
That seemed to work just fine. The dough for the braided challah at the top of the post came out just fine, though I might have over-floured the work surface when I was rolling out the dough and braiding.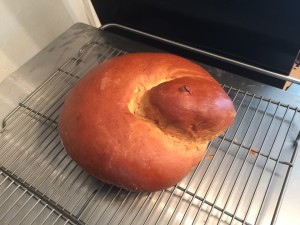 This little guy was more of an experiment. The form isn't as nice as I'd like it to be because I couldn't lay hands on my rolling pin, but the taste and texture were fantasic.
This is called turban challah because… c'mon guys, look at it! It's made by rolling out your challah dough flat (like you roll the brioche for cinnamon rolls), covering it with fillings, rolling it into a tube, and curling it up in a spiral. Next time, I'll make sure to roll it out rather than just smashing it flat. That might give me a better surface to cover and therefore a longer dough 'snake' to work with and a prettier spiral.
They both smelled heavenly in the oven and the turban challah didn't last the night since I declared it an experiment and therefore not for the next day's celebration. Some good butter helped it out immensely as did a little dab of honey, though I've been assured it didn't need help.
Next challenge: gluten-free pie crust and bread bowls because it's getting on autumn and that's stew and chili weather.