This is another week for sweet treats. Muffins and blondies, specifically.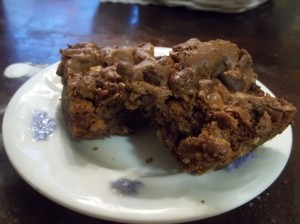 My original intention was to do some blueberry muffins, but the last batch were not met with as much enthusiasm as I would like. Plus, Courtney can't have the blueberries. Her gastroparesis means no skins on the fruits and GERD means no citric acid. However, pumpkin is considered as super-food for people with GP and the Basement Elf suggested pumpkin chocolate chip when I was musing on cinnamon chocolate chip muffins.
The blondies came about because of a random purchase at the store. I have approximately four pounds of chocolate chips because there are a lot of recipes that use them. The other day at the store, I was looking at random things in the baking aisle. (This is a dangerous thing for someone that bakes as much as I do.) There were flavored chips and butterscotch was amongst them. I am a big fan of butterscotch. Butterscotch candies are my favorite hard candies of all time. The Dear Husband also loves butterscotch. I figured I could sub in some butterscotch for chocolate chips in my usual evil brownies recipe.
The Basement Elf stepped in again and suggested blondies instead. I haven't done blondies yet, but they are fantastic. I've always thought of them as basically a chocolate-chip cookie in bar form.
The recipes are both from the web. The muffin recipe is from food.com and the blondies recipe is from King Arthur Flour's website.
A lot of groceries go into muffins. I'm more used to slow-risen yeast breads, the basics of which are four ingredients: flour, salt, yeast, and water. One big favorite here has just five ingredients, the extra being plain old Italian seasoning. (Yes, I'm aware that there are multiple components to Italian seasoning, but if it comes in one jar I'm counting it as one ingredient.) Get into enriched breads and you start adding oils, sugars, and proteins, but your regular French loaf is pretty simple.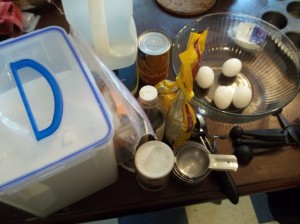 Muffins, on the other hand, tend to have a slew of ingredients. This one has flour, sugar, pumpkin, salt, baking powder, baking soda, vanilla extract, eggs, oil, cinnamon, and chocolate chips. You could possibly eliminate two of those by using self-rising flour, but I don't really keep that on hand. Too much of my baking is yeast-risen and you can't use self-rising flour for it.
These start with all your wet ingredients plus the sugar being blended together. I need to do a little more reading on why sugar is so often put in with  the wet ingredients instead of the dry. This part of the recipe is very similar to pumpkin pie filling, actually, except the pie I make has sweetened condensed milk in it.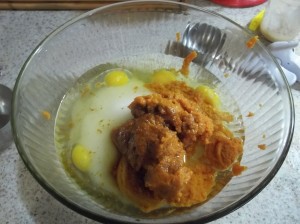 The dry ingredients, except the chocolate chips, get sifted together in another bowl and then added to the wet.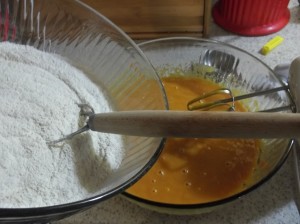 This handy little thing is a called a Danish dough whisk. It is a wonderful, wonderful little tool for things like this that are just a skosh too thick for a balloon whisk. They're also infinitely easier to clean and pretty inexpensive on Amazon or KAF. My friend Barbara pointed this gadget out to me back when I first started baking. It has been wonderful.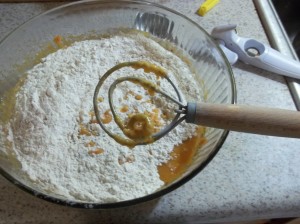 The chips go in last, and just get mixed until they're pretty evenly distributed.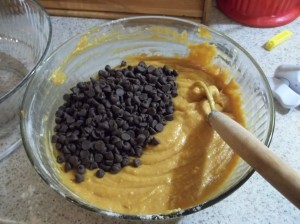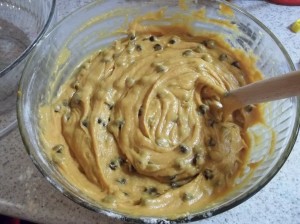 You can put the batter straight into your muffin tin after greasing it, but I opted for papers this time. I also used spray oil on the inside of the papers because it helps them peel off more easily later. Why oil the papers and not just oil the tin? Clean-up. Washing the wells on a muffin tin is a pain. The papers make it easier.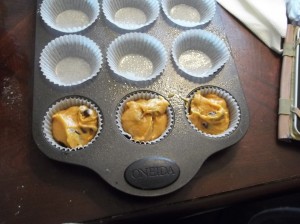 This batch of batter made enough for more than two dozen muffins, measured by scoop. You can buy a special muffin scoop, or you can go my route and get an inexpensive ice cream scoop with the thumb trigger mechanism. It does the same thing. Spray oil is involved here as well.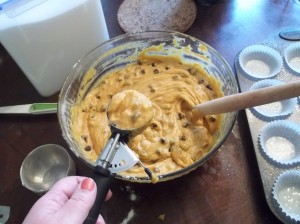 This scoop is just about a quarter cup, which is perfect for filling the wells on a standard muffin tin to about 3/4 full.
I poured the extra batter into one of the paper baking pans I had left over from my fruitcake frenzy this past holiday season. It was just about the perfect amount for a smallish loaf.
Once they're out of the oven, let these guys sit for about five minutes and then dump them out to cool on racks. I've read a few places that leaving them in the pans as they cool will stick you with a tough bottom crust and we don't want that.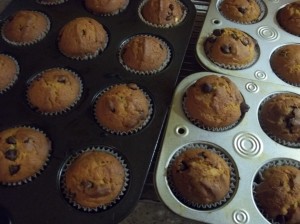 Serve with or without butter. Or Nutella. Or peanut butter. There are a lot of things you could smear on these guys.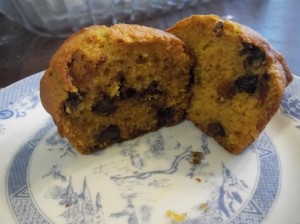 Now, the blondies. The blondies are… Let's put it this way. They tried to make them sort-of healthy by making most of the flour whole wheat. That's where the healthy ends.
These start by melting a half-cup (that's one stick) of butter and then mixing in two cups of brown sugar until it becomes smooth. Then you're supposed to let the mixture cool. It seems almost like it might just be easier to start with room-temperature butter and then cream in the sugar. Taste testers say that this tasted like browned butter, however, so that might be why the melting rather than simply creaming it.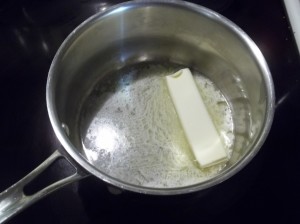 While the butter was melting, I mixed together all the add-in. That's a cup and a half of chocolate chips, a cup of butterscotch chips, and a cup of chopped pecans. I use pecans in place of walnuts in almost everything because Jamie is allergic to walnuts. They make her mouth hurt. As you can see, that's a lot of chips and nuts.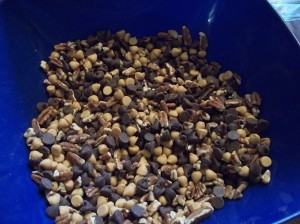 Once the butter/sugar mixture is cool, you start adding in the rest of the dough ingredients. Flour, eggs, baking powder, vanilla, and salt. I tend to add a little extra salt because most recipes assume you're using table salt and I use kosher. It doesn't actually measure the same because kosher salt is hollow.
I used the hand-mixer to blend this all together because it came out really thick. At first it was like coarse crumbs, almost like the texture you get when you're cutting butter or lard into flour for making pie crust or biscuits.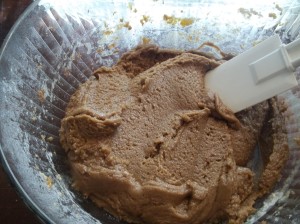 Eventually, it did smooth out, but it stayed cookie-dough thick. I was really expecting more of a batter, because that's how I think of brownies. These guys really seem to be more of a bar-cookie than a brownie. Like I said earlier, chocolate chip cookies in bar form.
Once you've got the dough mixed, you fold in the chips and nuts. To me, it really did seem to be as much add-ins as dough here. I knew from the science of baking that the dough would rise and expand, but wow this looked thick with super-richness.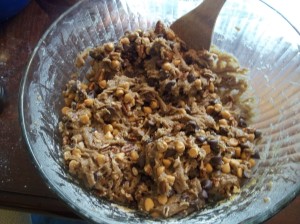 Into a buttered Pyrex it went. This is the 9″X13″ one and I used the ever-useful butter skins to grease it.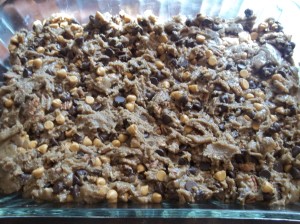 I baked them a little longer than the recipe says, simply because they didn't look quite right. I used a toothpick to test them when they came out, but just about everywhere I stuck a toothpick, it got butterscotch or chocolate on it.
The secret to brownies and blondies not disintegrating when you cut them is, unfortunately, patience. They have to set before you try freeing them from the pan or you're going to have basically a scoop of gooey yumminess.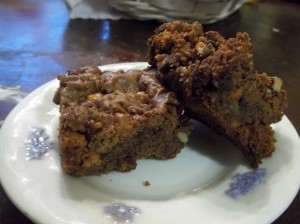 These have been declared to be the best thing I have ever baked. Granted, I take that with a huge grain of salt because the cinnamon rolls were declared that before this. And the cinnamon roll bread pudding before that. And the herb bread before that. You get the picture.
My  photo-choosing helper that lives in another country accused me of trying to get her to lick her screen, so I declare today's baking a success.